Welcome to the website of our
Dental Clinic!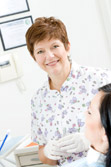 I wish to welcome all our patients who have been devoted to us for over 30 years. I am very proud when they recommend us to their friends and contribute to the further development of our clinic.
I also welcome you who have just heard of us or have happened upon our site by chance.
Please continue reading to find out who we are, what we do and what our goals are.

Enjoy browsing our website!



Višnja Blašković Šubat, PhD, DDS
Specialist in Dental and Oral
Pathology with Periodontology

Tel: +385 51 216 217