Aesthetic dentistry
Aesthetic treatment of wrinkles with fillers
The process of aging makes the lips thinner and creates wrinkles on the chin, around the lips and nose. In order to achieve a complete makeover of the lower third of the face, the fine lines, folds and wrinkles surrounding the mouth can be treated. The most frequently treated wrinkles and folds are:

- nasolabial lines that run from the nose to the mouth (1)
- perioral lines around the mouth (smoker's lines,or " barcode" lines) (2)
- marionette lines that run from the corners of the mouth down to the chin (3)
The filler treatment is an exiting injection procedure when non-animal hyaluronic acid is injected into the skin.Once in the skin,the fillers work together with body's own hyaluronic acid to create volume, resulting in a healthy and vital appearance of the skin.Fillers are not extracted from animals and there is no risk of allergic reactions. It is a biodegradable implant because it dissolves naturally with time.
A local anaesthetic cream is usually applied before treatment, filler is then injected into the skin or lip with a very thin needle. The treatment is very quick and effective and will not take much of your time. Results are visible immediately.The fillers provide temporary rejuvenation results for six to twelve months, depending on your age, type of skin, way of life, etc. Therefore, as a final phase in a dental makeover, we suggest application of filler injections to achieve a rejuvenation effect and highlight your new smile additionally.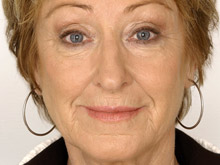 Treatment of wrinkles with filler before & after
(Download from marketing material)
Botox Cosmetics
As time passes by, our muscles of facial expression can create lines and facial wrinkles, associated with gravity, smoking and sun exposure. Here at the Dental clinic 'dr.Blaskovic' we offer facial rejuvenation to give your skin a youthful, smoother looking wrinkle-free appearance.
Botox injections are a very safe and painless method used to soften facial lines and wrinkles, thereby rejuvenating the face. An ultra fine needle is used to inject botox into facial muscles, causing them to relax. Botox is very effective at treating lines commonly associated with facial expression such as crows feet and forehead frown lines. To vist the botox website click here: www.botoxcosmetic.com